Spacious Suites, Cosy Lofts & Cottages with spa baths, gas log fires, verandahs, BBQs.
Rhyll Haven is a special place for special occasions: well earned breaks, anniversaries, wedding parties or small group getaways. Treat yourself or someone special to a little luxury in beautiful surroundings at Rhyll on the tranquil east side of Phillip Island. You'll find the biggest crowds here are hundreds of black swans and pelicans bobbing around the sandbars of the Inlet, just a 10 minute stroll from our gate.
Choose from two spacious ground floor suites with private courtyard or verandah, plus two cosy but roomy boardwalk lofts with private timber decks, the very romantic Rhyll Haven Cottage and soon, the perfect venue for family and group gatherings... Rhyll Haven House. Live indoors or outdoors, depending on the weather.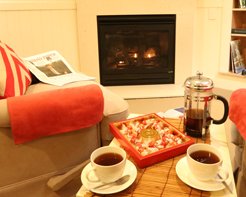 COMFORT
There's air-conditioning for those long summer days and inviting gas log fires for the cooler months, perfect to warm you up after a stroll to the pier or the mangrove boardwalks.
All accommodation at Rhyll Haven features a separate bedroom, plus a spa bath with fluffy towels, bathrobes and luxurious bath and body products.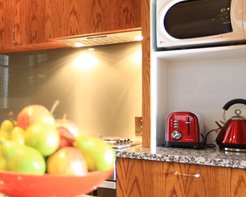 CATERING
Rhyll Haven House, Content Cottage, Mangrove and Sandbar Suites have self-contained kitchens, so you can truly hide away for days. We supply breakfast provisions for your first morning including free range eggs, smoked bacon, orange juice, yoghurt, fresh fruit, quality teas and ground coffee. BYO BBQ provisions, or give us 24 hours notice and we'll organise an amazing gourmet platter with your choice of meat, seafood, fruit and cheese.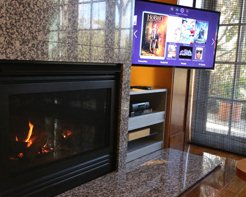 ENTERTAINMENT
For a cosy day or night in, Rhyll Haven's Suites and Lofts feature brand new entertain-ment systems: Widescreen Smart TV with web browser, Apps, Blu-Ray disc player for your favourite movies in high definition, media hub for your personal content, pay-per-view movies and TV series, plus 100 Foxtel satellite channels. Wi-Fi is fast and free. You'll finally catch up with all those movies and TV shows you've been meaning to watch.

Sunday 30 November 2014

Rhyll Haven Gift Vouchers are now available. Treat your family or friends to a Phillip Island getaway less than 2 hours from Melbourne. Whether you are looking for wildlife cruises, bush-walks, beach-walks, or just a total break from routine, Phillip Island has the lot and Rhyll Haven Luxury B&B is the perfect hideaway. Choose from either one of two night stays in our beautifully appointed cottage, suites or lofts. Just click on GIFT in our main menu and select your stay. We'll do the rest in plenty of time for Christmas. 
http://www.rhyllhavenapartments.com.au/gift_certificates.php

Saturday 15 November 2014

Take a break at Rhyll Haven before Christmas and enjoy big discounts off our standard rates... save up to $80 per room per night with breakfast still included. This special offer includes all suites and beautiful Rhyll Haven Cottage. Offer available for one month only until December 14.